Love ❤️ at first visual
Discover why more than 6 million individual users and teams of all sizes love to create infographics, reports, presentations, and other content assets with Piktochart.
Try out for yourself
Julia Gómez Acuña from Dear Content
Like many other marketers working at startups, Dear Content was struggling with limited resources. They didn't have a designer on their team. As a result, creating visually compelling content was a constant problem for them. They started looking for a solution and this is how they initially discovered Piktochart. 
Read Story
Karin Rex
Instructional Designer and E-learning Developer
As an instructional designer and e-learning developer, Karin shares how Piktochart has helped her succeed in her work.
Read Story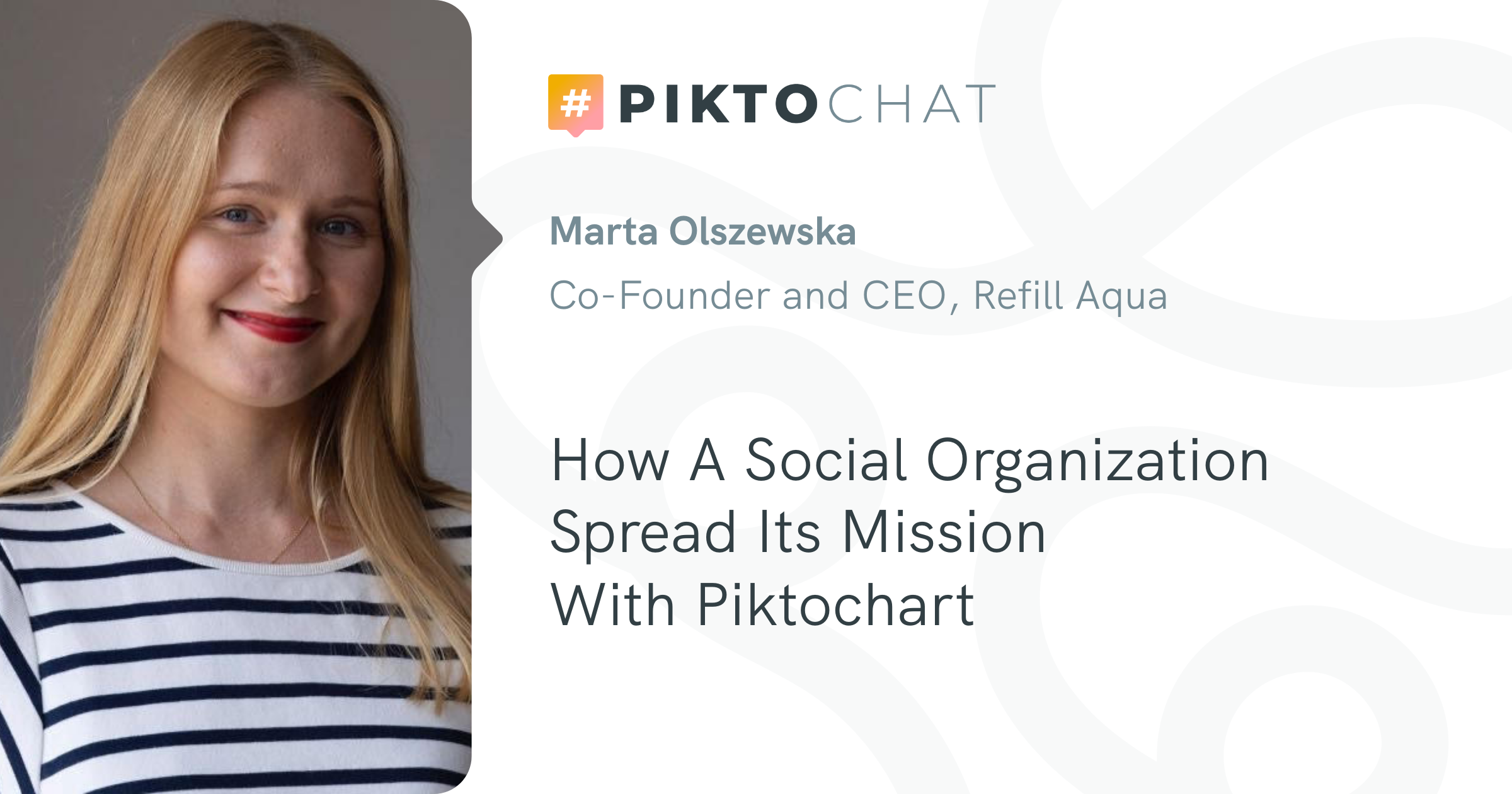 Marta Olszewska
Co-Founder and CEO, Refill Aqua
As a social organization, Refill Aqua is on a mission to reduce plastic pollution and visual communication has played a vital role in convincing the public.
Read Story
Dr. Aaron Fischer
Psychology and Psychiatry Professor at University of Utah
As a university professor, Dr. Aaron Fischer shares how Piktochart helps him to create resources to provide mental health support in schools.
Read Story
Jamie Barkin
English and AP Literature Teacher at Wheaton High School
High school teacher, Jamie shares how Piktochart helps her improve learning in her classroom for her students.
Read Story
Lorraine Thomas
Family Support Specialist at Holland Bloorview Kids Rehabilitation Hospital
As an advocate of health literacy, Lorraine shares how Piktochart helps her to educate her patients
Read Story
Deborah Tan-Pink
Senior Communications Manager at Revolut
A longtime customer of Piktochart since 2013 shares how she uses Piktochart throughout her career
Read Story
Venus Wong
Healthcare Design Fellow at Stanford University
A pitch deck created with Piktochart helped Venus raise fund for her healthcare startup
Read Story
Theodore Paat
Instructional Designer at Affirm
Theo did a lot of research for various platforms ranging from Venngage to Canva. Find out why he decided for Piktochart.
Read Story
Anne Payuan
Co-Founder at The Bright Millennial
The ease of use of Piktochart helped Anne scale her digital marketing agency.
Read Story
"I just launched our all new IT branding here at Kraft Heinz using Piktochart. It has been so well received across the company and it's all thanks to this application."
Christopher Degnan Global Communications Lead, The Kraft Heinz Company
"Piktochart ultimately changed my approach to the internal communications – it helps me create simple and smart visuals without any design skills."
Varvara Ovchinnikova People & Talent Specialist, JUUL Labs
"Piktochart is my go-to tool when I'm looking for a way to summarize data that is easy for our upper management to review. "
Erica Barto Selection, Testing & Assessment Specialist, Valero Energy Corporation
"Before Piktochart, it was very time-consuming and costly for us to visualize content. Now, anyone in the Marketing Team can easily create professional, high-quality graphics in a short time."
Daniel Wäldchen Member of the Executive Board, IPM AG
Get started with Piktochart
Ready to create your first visual in minutes? Join more than 6 million happy Piktochart users.
Free 30-day trial
Discovery call